Tuesday
2017-11-21
Ve 23:30 byla teplota 6 °C bez význačné oblačnosti, slabě prší.
The next train from Brno(main st.) 00:39 on Saturdays and Sundays only, not running on 12/25, 12/26 and 1/1, you must ask conductor to stop train in Babice
Other departures today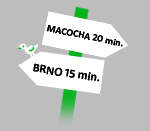 Penzion Pod Ronovem
664 01 Babice n. Svitavou 210
Tel.: +420 603 453 791
E-mail:
info@podronovem.cz
GPS: 49°16'40,5"N; 16°40'22"E


(c)
Kontura Design
Swimming pool
The open swimming pool is under reconstruction. The reconstructed swimming pool area will feature a pool for swimmers (30x12 m), wading pool with a slide (4x12 m), changing rooms, and restrooms.
The open swimming pool will open to public in 2016.